Brilliant idea of the week:
Alka-seltzer soft drinks.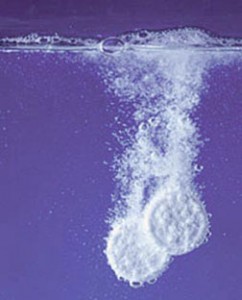 Alka-seltzer has caffeine, pain-relievers, and carbonation. But it tastes horrible. Why not make a soft drink with caffeine + pain-relievers that tastes good? It'll be the Four-Loko of pain-killers! Have a hangover? Pound a six-pack and you're good to go. Feeling a stomach-ache coming on? Head over to the vending machine for relief.  This would go great for the elderly, who get prescribed Ibuprofen to thin their blood. This will do that and give'em the pep to get a move on.
Of course, if someone drinks too much of this soft drink, they might overdose and cause serious damage to their body.  And the litigious society will bury anyone who tried this endeavor. Consumer advocates would demand the boycott of this product before it even got to the shelves.  In fact, this'll never fly as a viable product.
But c'mon – i definitely had you convinced for a second there, right?
Most great and disastrous ideas start off that way: they sound great, but when you dig deeper you find a whole host of reasons why they won't work. Usually these ideas are solving a problem. The problem solved by Alka-selter Soft Drinks is this: the present-day medicine is effective but tastes horrible.
Most entrepreneurs will tell you in order for a new business to succeed, your new service/product/business is supposed to solve a problem exists.  That's a good place to go, but I don't think it's 100% true. I don't know if Twitter*, 24/7 news channels, most video games or Oreo Cookies "solve a problem that exists". So I'd qualify that presumption with "build something that solves a problem or hits someone's pleasure button."
We call these "luxury items/services". In theory, since they're non-essential they should be victims to fickleness of the crowd's attention-span or to the economics of the world. But here's the thing: luxury items and services actually hold up well in the marketplace. You don't actually need to do something useful to make money! That means my Alka-seltzer Soft drink, which is potentially useful, may get beat by something completely useless but is entertaining (or luxurious)….like Pinterest.com. Of course, is's probably better to be both.
So good luck with your next brilliant/disastrous idea: hopefully it'll be both useful AND entertaining (and let's face it – most new products/services are….)
*if you think Twitter is useful, then please substitute the example with the following: Stuffed monkeys, Yogurt-covered raisins, or buttons….any kind of buttons.